Moctor, LLC
Regular price
$19.99 USD
Sale price
$15.99 USD
Unit price
per
Sale
Sold out
Age Range                  12+

Number of Players     2-6        
Material                      Cardstock
Color                           Multicolor
Notice                         Small Parts- Not for use for
                                     children 0-3 years of age
About this item
Twist your way out of a pickleball with family and friends! It's all about the kitchen! In this epic battle of duels and twists, two crafty chefs mix up their shots to help build skills and move play into the kitchen. Counter a volley with a targeted twist and finish off the point with an Erne. Or go for the Shake & Bake and win the round! Just like pickleball, the last shot wins the round and collects a token. Collect three tokens and win the game!
Features:
Play Options: Singles, Competitive Play, Doubles, Advanced play.
Play Time 20- 30 minutes
Perfect for Any Gathering- family or party game
You do not have to know a thing about PICKLEBALL to play the game
Easy to learn and high re-playability.
Purchase a second game box to expand to 7-10 players.
Share
View full details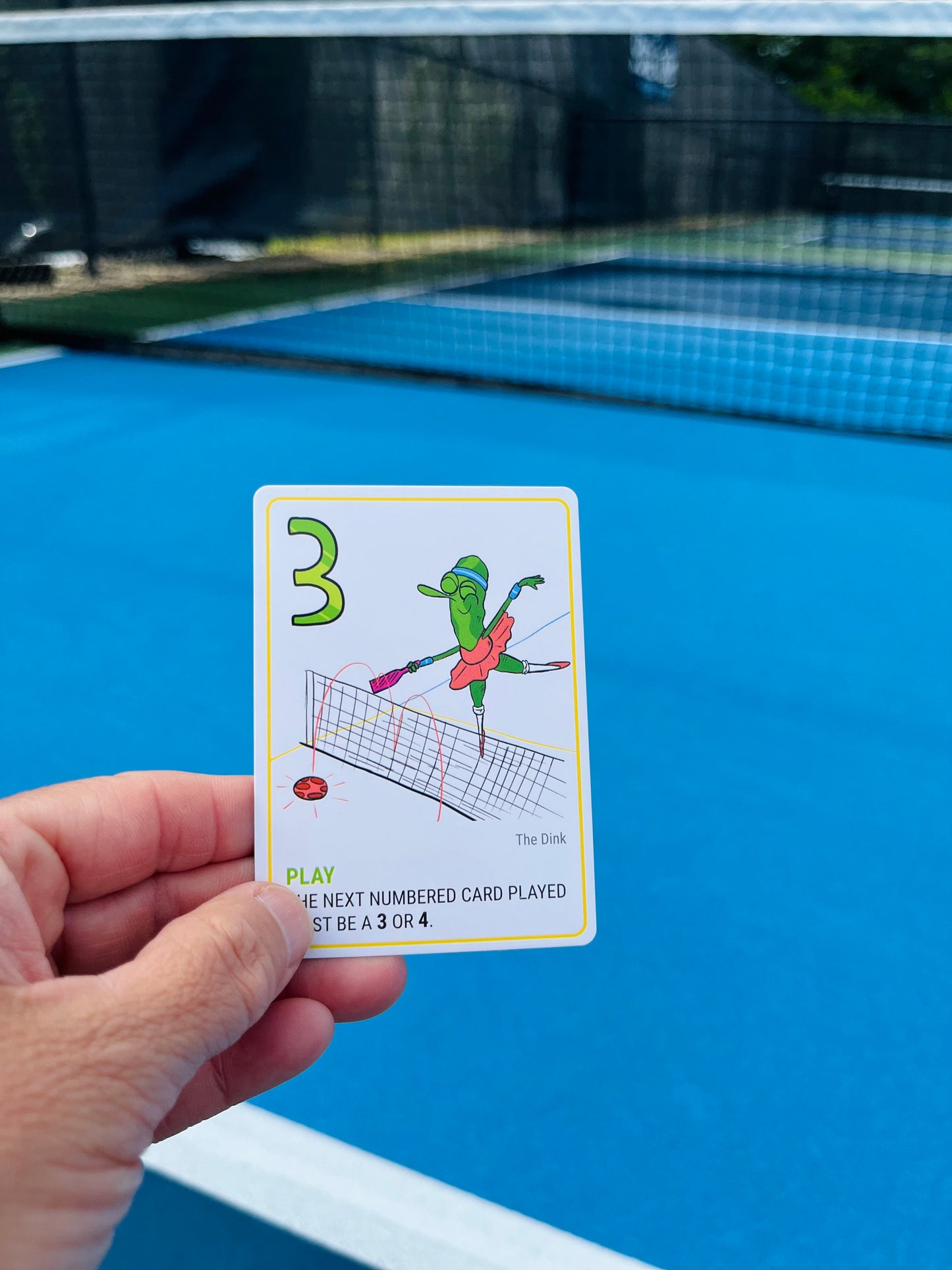 What's In the Box
Pickle Character Cards
Twist Cards
Tricky Chef Cards
Slam Tokens
Instructions
Many Ways to Play
Singles & Competitive Play

2-6 Players (1 game box)

2 Players- Singles
3 - 6 Players Competitive Play

A fun twist that gets everyone at the table trying to win the rounds and be the Pickleball Slam Champion!

"Ready, set, deal- Let's Go!" Jennifer D.

Doubles Play

4 Players

Two-player teams compete to win rounds and win the game! "Double the trouble, double the fun" - the winning team.

Advanced Play

2 - 6 Players

See what your opponents discard and build on your strategy to be the winner! ADVANCE PLAY: Each player discards to their individual discard pile FACE-UP.

During the DRAW phase, a player may draw from either the pile in the center of the play area OR the individual discard pile of the player to their immediate right side.